6 Things to Consider Before Seeing Anastasia on Broadway
6 Things to Consider Before Seeing
Anastasia on Broadway
There's something about the Broadway experience that's unlike any other. The moment you enter the theater and see that stage, you know that there's a world of magic behind those curtains. Countless hours of rehearsal, training, and exhaustion are about to pay off right before your eyes. It's extraordinary and deliciously addicting. I remember the first time I went to a show, I wasn't sure what to expect, I just knew that it was something I should do in NYC. So, I made it a mission, got my ticket and sat down to take in the razzle dazzle of 42nd Street. I left that night in a blissful daze. What did I just see? Magic. The impossible on stage. And I wanted more. I wanted to thumb through every Playbill and sit in every historical theater. You have to imagine that, with Broadway shows running since the 1860s, there has to be something to it. Nothing lasts that long without good reason.
Unfortunately, kids, work, and life means that I can't get to shows as often as I'd like, but it also means that it's so special when I actually get to attend. This time around, my friend and I went to see Anastasia at the Broadhurst Theater. This theater opened in 1917 and it's actually one of the bigger theaters in NYC, but don't let that fool you. The seats are still tight and the lines for the bathrooms are long. That's Broadway!
A quick blip about the show: Anastasia is about an orphaned Russian girl named, Anya, who comes to realize that she may actually be the Grand Duchess Anastasia Romanov. Nicholas II was the last Czar of Russia, and his abdication ended the Romanov's 300 year dynasty. The Romanov's were imprisoned and killed by the Bolsheviks, but legend has it that not all of the Romanov children died during the executions. The youngest daughter, Anastasia, was said to have escaped. For years, the Dowager Empress offered a reward to anyone who could produce her granddaughter, which led to a series of impostors attempting to collect the substantial reward. Anastasia is the story of Anya's road to finding her identity and her way to her grandmother in Paris. I actually read the biography a few years ago, so welcome to my history-loving alter ego.
Let's get into it:
1. The Screen Backdrop
In nearly every scene of Anastasia, pillars and archways are a part of the permanent, rotating stage. They seamlessly fit into the play, and the set designers smartly dress them according to the intended location. However, at the back of the stage is a huge movie screen that acts as a backdrop. Sometimes the movie is of a simulation of a train going down the tracks, and sometimes it's of Paris at night. Yes, the art involved is beautiful, but is it Broadway magic if you're turning the stage into a huge movie theater? Here we are in a gorgeous theater, watching these talented actors bring a piece of historical fiction to life, and I'm getting distracted by an animation taking up the span of the stage. It was like trying to read a good book with my 4 year-old playing on her iPad next to me. It's distracting! All I'm saying is that if I want to watch a movie, I'll buy a movie ticket and not a Broadway ticket. For me, Broadway is what they're able to accomplish with imagination, innovation, lighting and clever tricks of the trade.
2. Final Call
If you're like me, you like getting a nice cocktail or glass of wine to take to your seat. We entered the theater just after the doors opened, and the bartender mentioned that they had already called for last call, but he would try to get our drink order filled. What are you even saying to me right now? Some kind of Broadway-New-York-Minute stuff just went down, because I just walked through those damn doors. How was there time for a last anything? He was so nice and very accommodating, don't get me wrong, but if you want your drink, you'd better get in that line early! Listen, I'm just trying to help you out, 'cause wine is classy and so is the theater. Make sure you get your wine!
3. Partial Vision
Some theaters will say that they have seats with "partial vision," and this can mean that a structure may block your vision here and there, depending on where the action is taking place on the stage. I'm always worried that I'll roll the dice on "partial vision," and I'll be seated behind a pillar for the entire show. You don't know what kind of luck I have! At the Broadhurst Theater, they have boxes to the left and right, where guests are seated in free standing chairs, rather than rowed theater seats. This is nice for those who may not be comfortable in the tight theater seats, who have young children (4 years or older), or who are non-ambulatory. In any case, these seats are considered partial vision, because they curve to hug the sides of the rounded theater. This means that some of the action that happens to the far right or left of the stage may be blocked from view. Luckily, with Anastasia the majority of the play takes places at the center of the stage. Don't let partial vision be what deters you from seeing this play!
4. The Songs
My kids loved the animated movie Anastasia when they were little. We watched it too many times. No, really. Too many times. Still, I remember them listening to songs like "Once Upon a December" and "Journey to the Past" on repeat. Of course other songs have been added to the show, but, if your kids are a fan of the animated version, you might find that they, and you, are singing along to familiar favorites.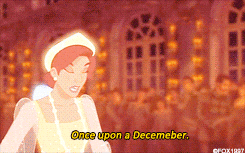 5. It's a Rollercoaster of Emotions
I usually go to shows that are funny, light and entertaining, so this was a change for me. Don't get me wrong, there are some fun scenes with well-timed comic relief, and there are light scenes that involve flashy flappers and upbeat numbers; however, you have to remember that this story is based in reality. It's story of a family who was murdered, and, while the story asserts that Anastasia survived, she lost her little brother, sisters and parents. The ghosts of Anastasia's past, and glimpses of memory, mean that her somber parents and deceased siblings take the stage throughout the show. I'll admit it, I was a little emotional.
6. Ballet on Broadway
Give me more ballet! At one point, the characters attend the ballet, which means that we, the audience, attend the ballet. The score from Swan Lake fills the theater, and ballerinas perform pointe for several minutes as the Broadway cast sings a separate, but powerful, song. The two worlds of theater performing in tandem is exactly why I go to Broadway. I felt like I was being treated to a 2-fer: a Broadway play and a night at the ballet. The dancers are stunning, and it is such a moment when they perform. Thanks to this scene, my new mission is to attend the New York City Ballet!
These are just a few things to consider before heading to see Anastasia, but the most important thing is that you only have until March 31, 2019 to do it!